A busy urban psychiatric hospital sends employee satisfaction scores through the roof while increasing patient safety at the same time. How is this possible? Perhaps it's because they discovered that keeping patients safe keeps employees safe as well. And what employees care about most, it seems, is safety.
Balancing Customer & Employee Needs
The relationship between customers' needs and employees' needs is a difficult one to balance, and perhaps no more so than in healthcare. As caregiver satisfaction suffers in the healthcare field, patient satisfaction also suffers. The important question then becomes: Do we really understand the relationship between caregiver and patient satisfaction and are they really so different?
Linda Oczus, Chief Nursing Officer of the Milwaukee County Behavioral Health Division (MCBHD), had this to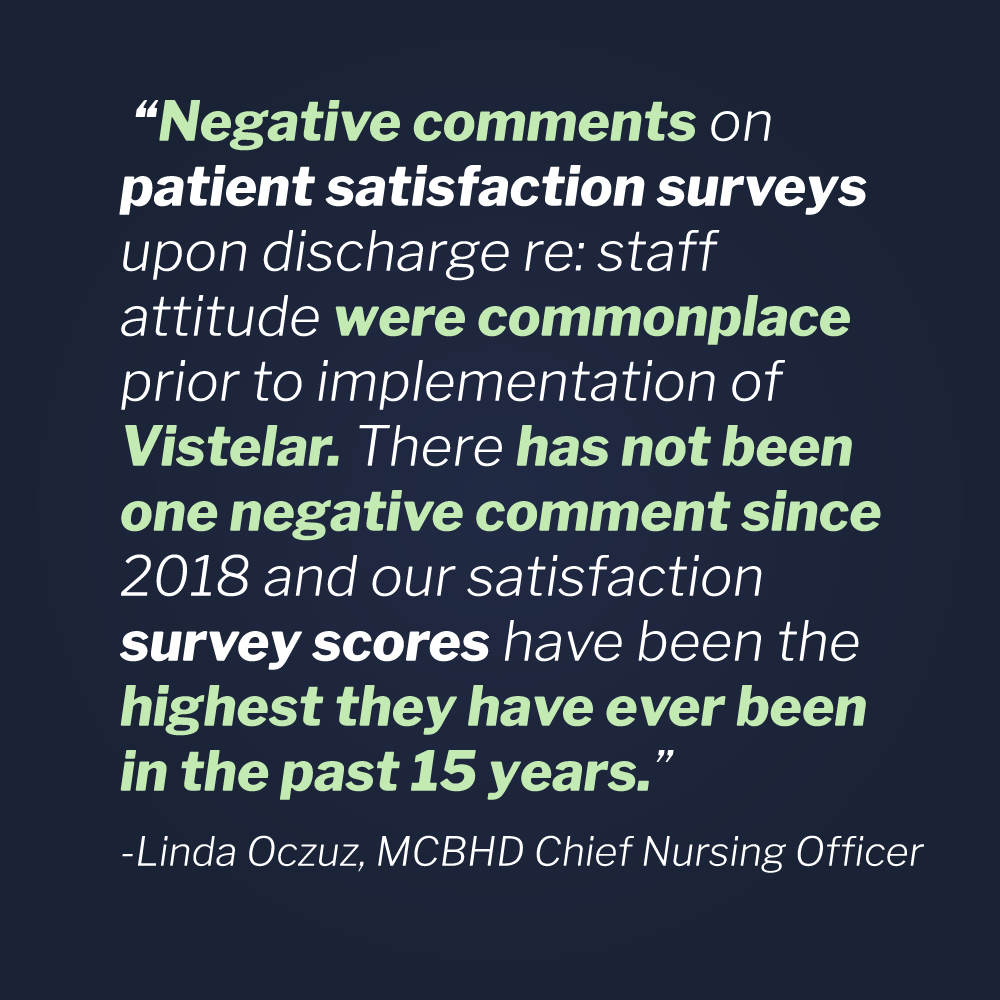 say recently after implementing Vistelar training for MCBHD staff back in 2018. "Negative comments on patient satisfaction surveys upon discharge re: staff attitude were commonplace prior to implementation of Vistelar. There has not been one negative comment since 2018 and our satisfaction survey scores have been the highest they have ever been in the past 15 years." No doubt, any hospital would consider a new training initiative to be a resounding success after sustaining patient satisfaction scores like that, especially during the age of COVID 19.
Agencies and NGOs concerned with patient engagement are discovering dwindling patient satisfaction scores from Asia, Africa and Europe to North and South America, in countries both rich and poor. Initiatives, most notably from the Netherlands, the UK, the US, and China have revealed a truth that hospitals have in common everywhere–what matters most to patients is the attitudes of their caregivers.
Patients care more about the perceived attitudes of their caregivers than anything else, it seems. In fact, they care more about their nurses' and doctors' attitudes than those things that hospitals traditionally spend so much time, energy, and money on, such as having the best doctors, the highest rankings in certain specialties, and beautiful, modern, and convenient facilities.
In 2019, researchers in China surveyed 2,626 patients on questions ranging from healthcare expenses to overall convenience of access. The results echoed what similar surveys have found repeatedly in countries around the world for years–attitude is everything.
Press Ganey, the firm that pioneered tools and approaches for measuring patient satisfaction, has narrowed down the factors that influence patient satisfaction to three primary areas:
1) communication, 2) provider empathy, and 3) care coordination.
The Importance of Good Communication
On the topic of caregiver-patient communication, Joe Geshoviak, president and CEO of Press Ganey put it this way, "There's a difference between waiting and not knowing why you're waiting." In other words, what caregivers communicate to their patients is everything, from when breakfast is being served to how their pain is going to be controlled.
At Vistelar, training to use communication tools like the Universal Greeting, the Persuasion Sequence, Beyond Active Listening and others drive caregiver-patient communication that in turn drives better patient satisfaction; which ultimately leads to better cooperation, which leads to better healthcare for patients, higher caregiver satisfaction, and increased safety for both.
Press Ganey also found that empathy drives patient loyalty, meaning that empathy is an important factor in whether or not patients will return for their future care and recommend a hospital to other people; because, as their CEO puts it, "Patients want to understand that we actually care for them."
Vistelar has always considered empathy to be a determining factor in the quality of patient-provider relationships. Vistelar's core principle of training is "Treat people with dignity by showing them respect." With that in mind, all participants begin their training by learning the five approaches to showing respect.
Tactical empathy, as it is sometimes referred to at Vistelar, drives better results because it increases patient collaboration. Trainees learn to express empathy using their Beyond Active Listening skills and through their communication alignment, which includes nonverbal (how they look), verbal (what they say), and paraverbal (how they sound) communication. They apply these using the Empathy Triad: 1) acknowledge their perspective, 2) seek to understand, and 3) anticipate their needs.
The final determinate that drives patient experience, according to Press Ganey, is "coordination of care." Press Ganey qualifies this metric by saying, "Patients want us to be working as teams." Poor perceptions related to miscommunication, uncoordinated activity, and inconsistencies drive patient engagement scores down dramatically. At Vistelar we often say, "inconsistency is the enemy of peace." But we've also discovered that inconsistency is the enemy of employee engagement, satisfaction, and retention. All training at Vistelar is team-based experiential training, where trainees learn to work together and respond to real-life situations as a team, rather than react as individuals.
The importance of patient satisfaction scores from an administrative perspective cannot be overstated. Not only are they tied to service complaints, malpractice claims, and even Medicare reimbursement, they are also tied to violence and healthcare outcomes.
Data suggests that patients who experience greater levels of satisfaction are more likely to cooperate with their caregivers and participate in follow-up care, so it stands to reason that they would enjoy better outcomes.
But recent data also suggests that perceptions by caregivers regarding the level of respect and safety they feel in relation to patients' behaviors also affect outcomes, revealing that they may spend less time with those patients, be more distracted, and make more mistakes.
Even More Positive Effects of Conflict Management Training
The Milwaukee County Behavioral Health Division CNO, Linda Oczus, also had this to say about the training they received from Vistelar: "Since implementing Vistelar's Unified Conflict Management System, our worker's comp rate has decreased by 65%." No doubt, most of their prior claims were driven by violent encounters with patients.
Reducing workman's comp claims by two-thirds is a successful turnaround for a psychiatric hospital or any other kind of hospital, big or small. Understanding that most violent assaults in hospitals go unreported and/or unclaimed, what Linda also had to say about the results of training is perhaps even more revealing: "Serious injury events (requiring ER evaluation/ hospitalization) for staff have decreased to zero from a rate of 4-5 per year. While this may sound insignificant, even one case of serious injury is too many and can result in millions of dollars in workman's compensation expenditures."
As for how this affects employee satisfaction is no doubt obvious to everyone. Staff are experiencing less violence and greater cooperation from patients. Specifically, patient restraint is one of the least favorite tasks that nurses and other caregivers have to perform. In regards to this topic, Linda Oczus shared that "Restraint rates have been at or below the national average since implementation of training; prior to this time, restraint rates were commonly 2-3x the national average."
Every day, psychiatric hospital staff must care for some of the most challenging patients at the worst times in their lives. At MCBHD we can clearly see the value of the right kind of dedicated training. But what about acute care hospitals, subacute care centers, and other patient care facilities that also see high levels of violence and patient/employee dissatisfaction? Are their needs any different? Not at all, as the data concerning violence and satisfaction scores reveals.
It has been said that the customer experience will never exceed the employee experience. Perhaps that is no more true than it is in healthcare. Though the professional literature regarding overall nursing job satisfaction in healthcare is ambiguous, we do know that nurses quit healthcare most often due to a stressful work environment and burnout. And that was true even before the COVID pandemic.
A few years back, I was assigned to investigate a patient complaint regarding the conduct of staff on a nursing unit. The patient had written a letter to the healthcare system's CEO complaining that their caregivers were "lazy, rude, dishonest, and incompetent."
No particular nurse or other hospital staff member was identified in the complaint, but some fairly explosive accusations were made against the unit staff as a whole, including refusing to allow visitors, withholding treatment, and refusing to provide prescribed medications. Considering the seriousness of the accusations, a thorough investigation was definitely warranted.
My first task was to examine the medical record and interview providers and caregivers to determine if there were any irregularities. The record and my preliminary report were then examined by medical professionals for their independent opinions. That initial investigation uncovered nothing to corroborate the patients' claims of staff withholding treatment, including any medications.
My interviews with staff did reveal a complaint that the nurses were withholding pain meds, but the claim turned out to be unsubstantiated. The facts revealed that the patient had exceeded safe levels of narcotic pain meds on a few occasions and the staff were directed by the physician to offer non-narcotic solutions. This seemed to fall in line with the patient's perceptions regarding the withholding of medications and treatment, which the patient later described during their interview as being the case.
During a telephone interview, the patient repeated their complaint that they were not allowed visitors. When I asked if they had received any visitors at all during their stay, the patient stated that visitors were allowed "a couple of times" but were usually turned away "for no good reason."
In an effort to thoroughly investigate the patient's complaint that they were denied visitation, I interviewed nursing staff, visitation staff, and security staff. I also examined reports, visitation logs, and security camera footage to determine if there was any validity to the patient's claim. The reality that emerged was predictable and corroborated some of my initial suspicions.
It was true that visitors for the patient were turned away on several occasions. In fact, my investigation revealed that at least eight visitors were turned away at the door. What was not true was the claim that they were turned away for no good reason.
There were, in fact, several attempts by friends and family to visit the patient well after visiting hours, causing them to be turned away. To further complicate matters, the patient had requested "confidential status" and some of their visitors were not on the patient's list of authorized visitors.
In two cases, security was called when the patient's visitors were causing a disturbance at the door. Once when a visitor refused to present identification and on another occasion when the visitor was severely intoxicated.
In the end, all of the patient's accusations were unsubstantiated and the nursing staff were cleared from any wrongdoing. The CEO was relieved to learn that the hospital staff had acted appropriately and chalked it up to just being a routine case of "you can't please everyone." But what now?
Recognizing Opportunities for Improvement
Was it really just another case where you can't please everyone or was there something to be learned from the overall experience? By viewing this incident as just an anomaly, we may be losing important opportunities for improvement. Shouldn't we also investigate what impact the patient's conduct and subsequent investigation had on employee satisfaction? Shouldn't we also ask if anything could be done to avoid misperceptions of mistreatment and the inappropriate conduct of the patient towards staff, including verbal disrespect and threats?
What we do know is that the professional nursing attrition rate has been historically problematic and is getting worse. Due to the COVID pandemic, droves of nurses are quitting their jobs. According to a 2021 report from Nursing Solutions Inc. (NSI), a national high-volume nurse recruitment and retention firm, 62% of hospitals now have nursing vacancies greater than 7.5%.
The problem may be worse than most people outside of healthcare realize, with turnover rates for nurses currently hovering at around 20% and some facilities hemorrhaging nursing staff at rates over 40%! In their report, NSI described the turnover rate for hospitals as "a leading indicator of future financial pressure, and patient and employee satisfaction."
In the United States, where nurses enjoy some of the highest salaries, new nursing graduate turnover rates are roughly 30% in the first year of practice and double to nearly 57% in the second year. None of this can be attributed, of course, to retirements. Some are going to other hospitals seeking higher salaries, but many are leaving the profession altogether. This astonishing rate of attrition is not only costing healthcare consumers billions of dollars, but it is negatively impacting the quality of patient care and outcomes.
That said, a lot of this has to do with how much time a healthcare professional spends in contact with patients. Interestingly, healthcare services on the whole enjoy lower turnover rates than most other professions, according to the Bureau of Labor Statistics. That said, healthcare services workers who stay and work their entire lives in healthcare, typically work in labs, IT departments, administration, and in other support positions. The ones who are leaving in droves are typically working at the bedside.
Direct patient care is physically and emotionally demanding work. A nurse on a typical inpatient unit will answer a patient call light between 6 or 7 times an hour, going from patient to patient while changing PPE and disinfecting between each of them. All this while charting, reporting out to physicians, rounding for scheduled patient cares, vitals, and meds, and everything else they must do flawlessly. All within a span of 10 minutes or less for each patient!
The pressure can get even worse depending on the nurse's specialty. For instance, psychiatric nursing has the highest rate of turnover, followed by emergency nursing and medical-surgical nursing. Nurses in these specialties spend a lot of time with patients and families who are experiencing emotional distress, fear, and pain.
So what does all that have to do with a patent complaint? With the encouragement of the system CEO and the hospital president, I did some in-depth follow-up interviews with the nursing staff, the patient, and even some family members who agreed to participate. Here's what I discovered.
Some of the nursing staff had allowed after-hours visitors with the patient and others had not. Also, the patient's surgeon had mistakenly told them (which the surgeon later confirmed) that their visitors could stop by after hours because some of them worked late. The conflicting messaging for the patient and their visitors created an inconsistency that led to conflict.
Also, the patient was asked at registration whether they wanted to be listed as confidential. The patient said that it sounded like a nice idea and said, "Sure, why not?" After a few visitors were rejected for not being listed on the confidential visitors' list, a security officer explained to the patient why. The patient then immediately asked that their confidentiality status be removed. The patient then stated that if they understood completely what confidentiality status meant, they wouldn't have opted for it when asked.
Finally, we were able to put the patient, their spouse, and some of the nursing staff together for a round table discussion. When palliative care options were explained to the patient during the discussion, she said, "Well, if they had explained it that way, I wouldn't have been so upset."
The nurses shared their perspective that the patient and their spouse were confrontational and rude to them. They offered examples of disrespect ranging from eye-rolling and yelling to cursing and name-calling. Neither the patient nor the spouse denied the behaviors and when I asked why they treated the staff that way, the spouse shared that it was the only way to get them to listen. When I asked if they still believed that approach was effective, the spouse answered, "No, I guess not. It probably just made things worse."
At the end of the process, the patient and the unit staff had genuinely built an appreciation for each other and hugs were exchanged. You can also bet if the patient had been given a patient satisfaction survey afterward, they probably would have given them at least a passing grade.
Putting it All Together
So what did we do afterwards to improve the patient and the employee experience for future encounters? The reports generated in the aftermath of this complaint had in fact become a watershed, leading to many reforms throughout the entire healthcare system.
The first step was to create a training regimen based on what we had discovered during the investigation. Staff trained to set limits on Gateway Behaviors, i.e., yelling, cursing, and even eye-rolling to open communication with patients and families and reduce disrespectful behaviors.
Scenarios for training on everything ranging from pain control to visitation rules were developed and eventually all bedside and security staff were trained to have tough conversations with patients and families. Eventually, the training was included in first day-orientation, first-year preceptor training for nurses, and annual refresher training. Finally, skill sets involving greeting and persuasion were included for gatekeepers and support staff. Then elements were included for all staff during the annual safety fair and even became performance competencies for annual employee evaluations.
Other scenarios were identified and added to the course with many tailored to specific job tasks and roles. Training scenarios also included risk and threat assessment, and decision-making regarding taking appropriate action, such as getting safe and calling security.
Afterward, we started to evaluate the impact of the training and discovered some very revealing metrics. First, we saw the number of injuries to nurses resulting from violence drop dramatically–by 50 percent the first year and nearly 75 percent the following year.
Secondly, we saw the numbers of calls to security increase significantly, as bedside staff were attempting to set limits on disrespectful and threatening behaviors more often. In time, they decreased as staff built more experience and competence. Staff were also more frequently reporting incidents of sexual harassment and violence that many said they would have dismissed prior to the training.
The other things we saw were also significant. We saw up-tics in both employee and patient satisfaction, as nurses improved their communications skills and took more control of their professional relationships and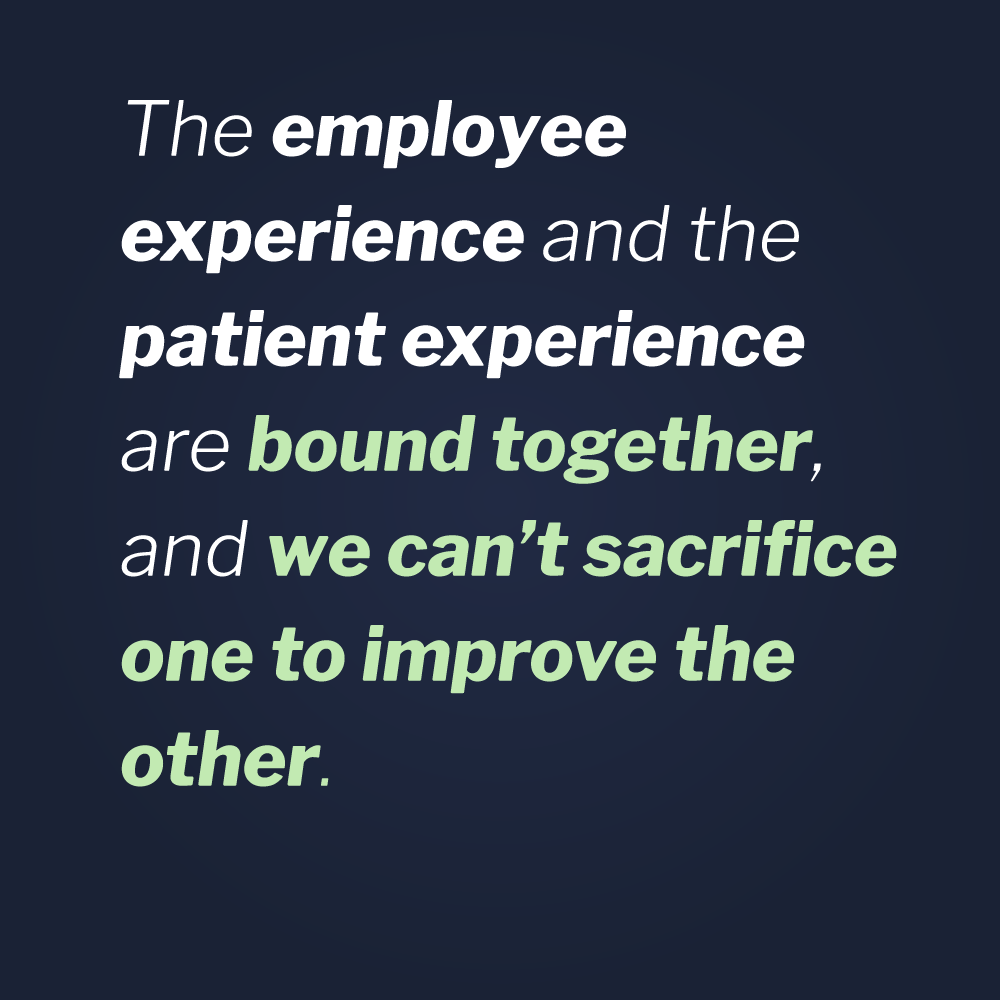 environments. We also saw approval scores for the security department shoot up to the top tier range of annual peer evaluations, something rarely seen in healthcare.
What I learned from that experience is that the employee experience and the patient experience are bound together, and we can't sacrifice one to improve the other. For hospitals, training is an indispensable part of the solution, because you can't tell someone to fix their attitude–you have to address the issues that affect the attitudes of both patients and staff. When you finally do so, you'll discover that their issues are generally the same and begin the process of creating an environment of care that is safer, more productive, and more satisfactory for all.