Who We Serve

Vistelar provides a range of workplace violence solutions to any organization experiencing the physical, organizational, legal, and/or emotional harm that can result from poorly managed conflict — either from external or internal origins.
For example, we work with such disciplines as healthcare, behavioral health, education, security, social services, home visitation, hospitality, customer service, transit, and law enforcement. We train contact professionals — individuals who spend the vast majority of their time directly interacting with the general public or their organization's clients — and organizational teams impacted by workplace and/or lateral violence.
Vistelar is a licensing, training, and consulting institute focused on helping organizations improve safety through a systematic approach to workplace conflict management
Our Unified Conflict Management System™ uses easy-to-learn and trauma-responsive tactics — based on over four decades of real-world experience and frequent enhancements — to empower teams to identify, prevent, and mitigate all types of conflict, from simple disputes to physical violence.
Mission
To build safe and respectful workplaces through verbal and physical conflict management solutions
Vision
To make the world safer by teaching everyone how to treat each other with dignity by showing respect and increasing their confidence and abilities in managing conflict, crisis, and physical violence
We address the entire spectrum of human conflict via these core programs: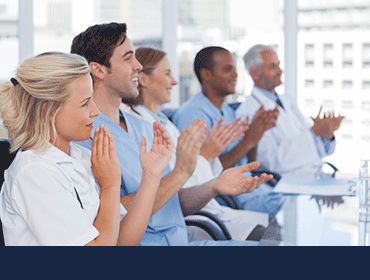 Vistelar can deliver its Unified Conflict Management System and numerous training programs via two approaches:
Traditional — Includes packaged curriculum, train-the-trainer training, a workbook purchase requirement, and usually a requirement for periodic recertification of trainers (Vistelar does not have a recertification requirement)
Content License
—

Includes a multi-year and multi-phase implementation and sustainment program plus the granted right to use Vistelar's intellectual property to train staff, develop instructors, customize courseware, and create online programs for the duration of the license. This approach eliminates the restrictions of the traditional approach and, as a result, provides these benefits:
Beyond train-the-trainer training and content licensing, other approaches to receiving Vistelar training include:
Unified Conflict Management System™
Each of our training programs is a component of the Vistelar
Unified Conflict Management System™, with these attributes:
Is based on the Vistelar 6 C's of Conflict Management framework

Uses consistent principles, methods, and terminology across all programs
Has a systemized structure of tactics represented by simple reminder graphics
Emphasizes simplicity and universal application with all tactics taught
Is the result of over four decades of real-world experience and ongoing enhancements
The result is a system of tactics that are easy to learn, remember, apply, and teach.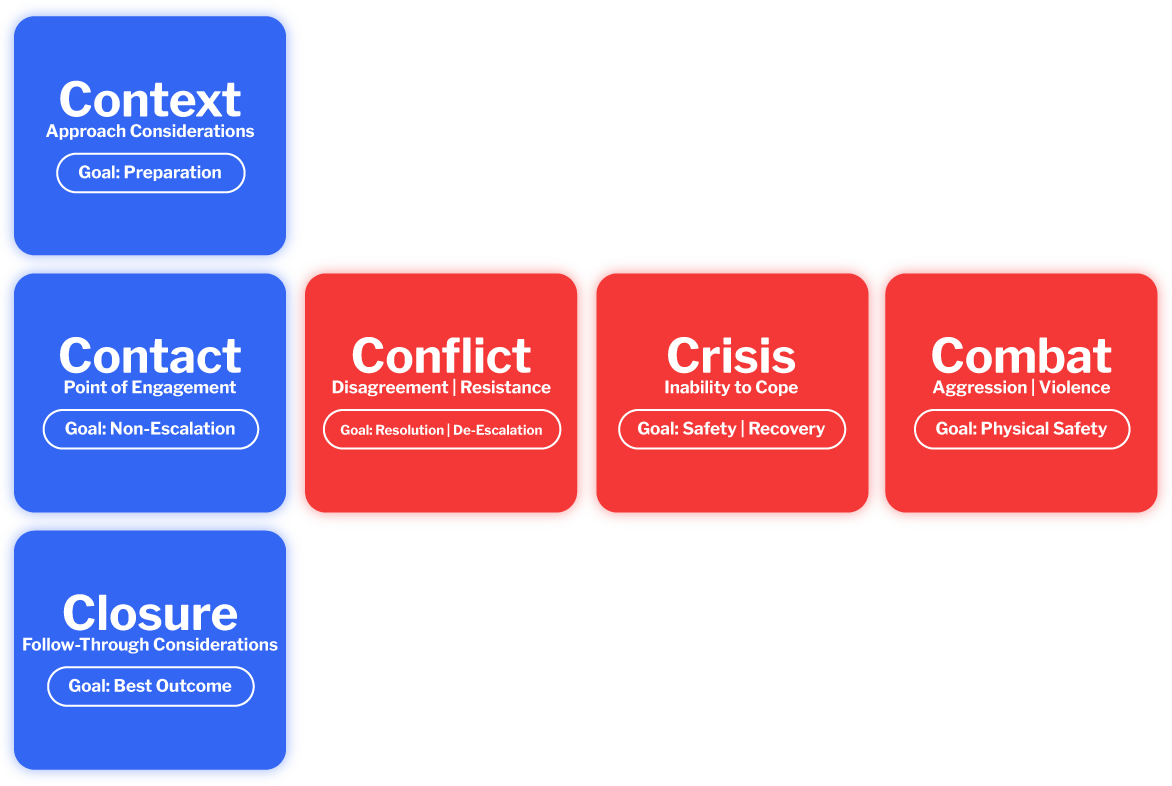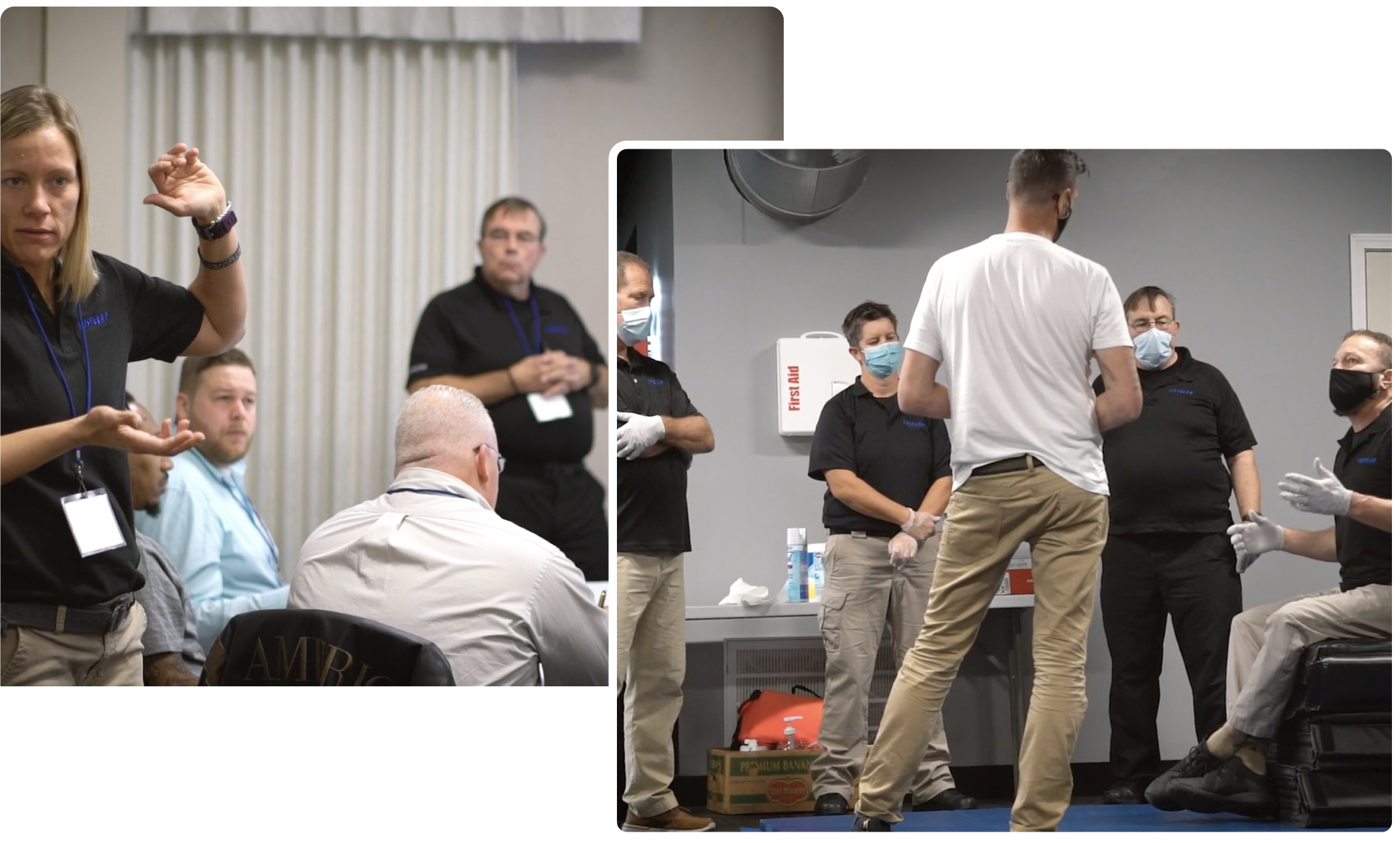 This system is taught using an evidence-based approach designed to create permanent changes in employee behavior when back on the job that results in these organizational benefits:
Enhanced customer satisfaction and outcomes

Decreased injuries and worker compensation claims
Improved emotional, physical, and organizational safety
Minimized liability and reputational risks
Reduced absenteeism, poor morale, and turnover
Lessoned lateral violence (workplace bullying)
Origins
The origins of Vistelar date back to the early 1980s when Gary T. Klugiewicz, a nationally known defensive tactics trainer and future co-founder of Vistelar, helped originate the "unified tactical training" system used for all public safety training in the State of Wisconsin.
Beyond Wisconsin, this system has been implemented over the last four decades in scores of healthcare and behavioral health organizations, law enforcement agencies, and correctional institutions throughout the United States.
In 1992, Gary started working closely with Dave Young, a nationally recognized defensive tactics trainer of law enforcement, corrections, and the military.
Vistelar was founded in 2009 by Gary, Dave, and business executive, Allen Oelschlaeger, to address the entire spectrum of human conflict — from simple disputes to physical violence — and to extend the reach to more disciplines and organizations.
Today Vistelar is a world leader in conflict management licensing, training and consulting, supported by:




The comprehensive Vistelar
Unified Management System™
Several published books in its
Confidence In Conflict Series
A premier team of conflict
management experts

Allen's background includes more than 20 years of experience as an executive for large corporations and more than 20 years of leadership roles in several entrepreneurial businesses.
Allen Oelschlaeger
Marketing

Bill's experience includes decades as a police officer, mediating civil cases in court and training police academy recruits. Recently, he has specialized in helping Vistelar's clients through their training journey.

Dan is a seasoned management professional with over a decade of leadership experience at FedEx. He has a passion for creating and maintaining a safe and respectful workplace, both for our valued customers and dedicated team members.
Daniel Wirth
Customer Liaison

Derrick spent 17 years training thousands of officers defensive tactics, firearms, tactical response, ethics, and ground fighting. He has also served as safety coordinator for a major public school system.
Derrick Washington
Training

USMC veteran, public safety trainer with over 3 decades of experience responding to real-world threats working with healthcare organizations around the world

Gary has 24 years experience in developing, coordinating and delivering physical stabilization skills to law enforcement professionals, as well as staff at behavioral health and social services organizations.

A retired sheriff's captain, Gary has been a leader in conflict management training for over 40 years, moving from law enforcement to healthcare, mental health, education, and beyond.

Jamie inspired outdoor learning as an ecology teacher for nearly a decade before transitioning to law enforcement as a Sheriff's Deputy in Wisconsin. She is passionate about making the world a better place.

Jill brings 20 years of combined experience in hospital security and campus law enforcement. She specializes in active shooter response, sexual assault prevention, bystander intervention, trauma-informed care and PTS(D).
Jill Weisensel
Instructional Design

Jim has been working one-on-one with children and adolescents who have experienced a great deal of trauma, as well as providing training for people who interact with at-risk youths.

Joel has 30 years experience in healthcare security training. He co-developed a program to teach law enforcement how to respond to individuals with autism and other cognitive disabilities.
Joel Lashley
Instructional Design

Katie Ann is a registered nurse by trade with experience in the inpatient, outpatient, research, and administrative areas of healthcare. Her approach combines her expertise in workplace violence prevention with her experience surviving a near fatal workplace violence attack.
Katie Ann Blanchard
Clinical Education

Kati has worked with various social service organizations to provide assistance and support to inner city community members. She has worked in various capacities at Vistelar for over a decade.

Lisa's experience includes decades of leading healthcare and university police, security and emergency management programs. She has spent the past 10 years providing consulting, training and security vulnerability assessments to hospitals across the country.

Logan is a Firefighter, EMT, married, and has two children residing in Northeast Arkansas. An instructor for over 25 years in disciplines from conflict management, active shooter to firearms.

Rachel has over 10 years experience in business development and healthcare leadership. She is passionate about the Vistelar mission and determined to find the best workplace violence prevention solution for our clients.
Rachel Turner
Development

Rollan has 24 year of experience as a training instructor for law enforcement in professional communications, physical defensive arrest & control tactics, non-escalation and de-escalation tactics, mental health awareness & assessment.

Tom has been a police officer for over 30 years, now serving as Chief of Police in Cudahy, WI. Chief Poellot joined the U.S. Army Military Police in 1986.

A public safety training professional with 25 years of experience in law enforcement, private security and personal training. Tony specializes in defense tactics training as well as civilian self-defense.
Interested in a career with Vistelar?