Enjoy this excerpt from one of our published books.
Chapter 9
Human Resources: Best Practice Policy Considerations
Throughout this book, we have explained the importance and value of maintaining an environment that is incompatible with emotional and physical violence, accomplished by creating and maintaining an organizational culture that won't allow it. It is your organizational culture that will drive behaviors, and those behaviors will drive outcomes.
However, even the healthiest cultures should be supported by robust workplace violence prevention programs and policies. Additionally, OSHA recommends that employers establish and maintain a violence prevention plan as part of their safety and health programs.
The following section offers best practices and a starting point for developing your own workplace violence program.
Preliminary Considerations for Organizational Leadership
Before developing your violence prevention program and associated policies, there are several preliminary questions for organizational leadership to consider, and they are categorized below.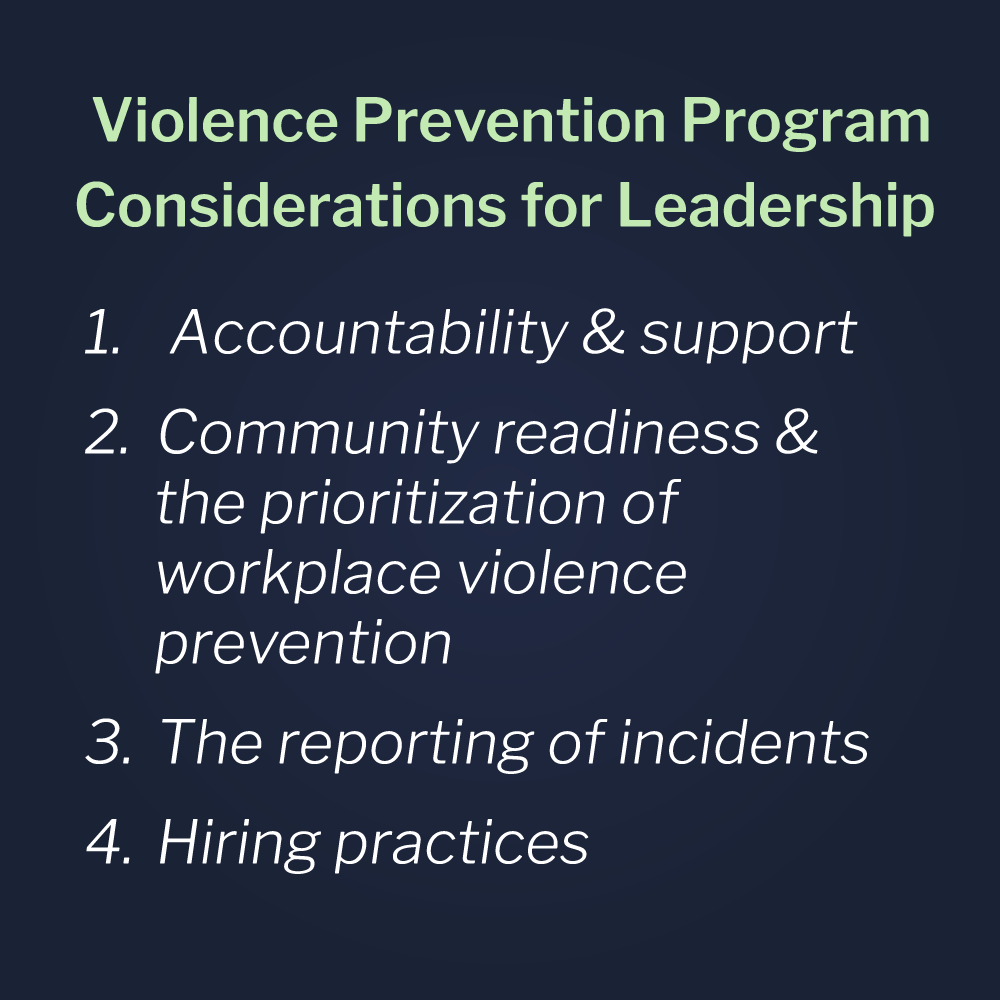 Related to Accountability and Support
Have you conducted a comprehensive gap analysis (to assess the current state versus the desired future state) of any workplace violence prevention efforts or policies, including an assessment of organizational culture and readiness?

Have you conducted a safety and security assessment of the physical work environment to identify the physical and psychosocial hazards that may increase the likelihood of violence occurring?

Does your program have a system of accountability for all involved managers and employees?

Will management support the (new) policy? Your policies are only as good as your ability to follow them.

Do you have the appropriate funding and resource allocation to support and implement the program/policy?

Do you have a post-incident response plan in place that includes investigative practices that will defend you in the event of litigation? Does the post-incident response plan include comprehensive counseling or support options for those who have experienced or witnessed incidents of lateral violence?

Have you determined what type of insurance would need to be in place for specific events, such as a terrorist act versus an armed assailant? Worker's compensation only covers injured workers. Do you have property coverage that includes business interruption and loss of physical property?
Related to Community Readiness and the Prioritization of Workplace Violence Prevention
Does your organization prioritize workplace safety and the reduction of psychosocial hazards to create an emotionally and physically safe work environment?

Does your organization have an equal commitment to worker safety and the emotional/physical health and wellness of patients/clients/customers?

Does your workplace have a plan in place for identifying incidents that may be precursors to physical violence?

Does your workplace have a plan in place for identifying high- risk terminations?
Related to the Reporting of Incidents
Does your current work environment encourage people to come forward with information?

Do your reporting policies include no reprisals or retaliation for reporting?

Have you established a consistent reporting protocol? Identify multiple avenues in reporting to ensure that threats or violent acts are dealt with in a timely manner. Consider the use of reporting hotlines.

Have you broadly communicated the reporting protocol you implemented? The more your employees are aware of the channels of reporting, the more likely they are to report information.

Have you implemented and enforced a violence response policy? Have you determined which employees need to be involved in responding to incidents and trained them? Clearly outline and put in place disciplinary measures for those

who fail to report, fail to respond, or engage in workplace violence. This includes written warnings, progressive discipline, demotion, days off, and, potentially, termination.
Related to Hiring Practices
Are careful hiring practices (and background checks) in place? A background screening will prevent hiring individuals presenting a risk of workplace violence. The best predictor

of future violence is past violent behavior. Consider working with a background check provider to help you identify employees who best fit your hiring requirements.
When drafting policies, also consider:
Establishing a Conflict Prevention Social Contract and including language in the policy that supports and reinforces

Drafting comprehensive policies that prohibit physical, verbal, and all forms of lateral violence and include disciplinary consequences up to termination.

Training your managers, supervisors, and staff to take appropriate action and intervene when it is safe to do

Training everyone to take responsibility and be the "eyes and ears."
It is not enough to adopt the "see something, say something" mentality. You must train them on what to look for and what to do. These are the foundational elements of being alert and decisive. Additionally, we must understand that if you "see something" and don't "say something," we have to recognize that we have become complicit.
In Chapter 7, we touched on after-action considerations. Your post-incident response should be formalized and predictable. It will allow you to assess all of the processes and people that were impacted and diagnose root problems so you can create an action plan for preventing it from happening again in the future.
Your after-action considerations should include:
Comprehensive documentation of the incident that includes who, what, where, when, and how. If applicable, collect statements from those involved.

Closure (for yourself and everyone involved) to end interactions safely and on a positive note for future

Debriefing (to assist in after-action closure and improving future performance).

Appropriate documentation through your organization's avenues of reporting (so that your organization can take appropriate action)

Ongoing support for all staff (such as EAP support, the availability of on-site counselors, and follow-up or follow- through from supervision).
Finally, your violence prevention program should also:
Be available to all employees, including managers and supervisors; all employees should receive specific training concerning its content and implementation.

Reflect the level and nature of threats faced by

Include a worksite analysis to find existing or potential hazards for lateral violence (evaluate credible threats, evaluate capabilities, identify vulnerabilities, and assess the consequences).

Include metrics for measuring the effectiveness of your violence prevention program, such as:

Tracking employees' progress in reducing work-related assaults.

A reduction in the severity of injuries sustained by employees.

The number of threats to worker safety.
Key Takeaways
Best practices when developing a workplace violence prevention program include:

Conducting thorough background checks.

Establishing a consistent reporting protocol.

Implementing and enforcing a violence response policy.

Training all employees in what to look for, what to do, and what to expect when they report.

Lateral violence prevention policies should consider:

The emotional and physical health of all employees.

Appropriate allocation of authority and resources.

A safety and security assessment of the physical work environment to identify the physical and psychological hazards that may increase the likelihood of violence occurring.

Establishing a conflict prevention social contract.